Hi, We're Boardwalk
Whether you're looking for contractor insurance or coffee-shop insurance, if you're a business owner, we're here to help. We are property and casualty professionals invested in technology and supercharging the way businesses purchase and manage their insurance.
Partners
We're partnered with leading Canadian property and casualty insurance providers that have decades of experience behind them.
From general liability coverage to cyber security and business vehicle protection, we're helping Canadian businesses get the commercial insurance coverage they deserve.
Our Vision
At Boardwalk, we operate from three simple principles: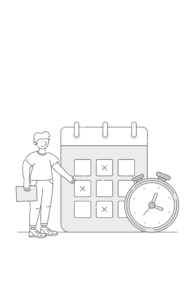 Whether it's right after you close up shop for the day or in between meetings in the evening, Boardwalk makes managing and purchasing your commercial insurance policy as convenient as possible.
Boardwalk is built to work fast – so fast that we're giving new meaning to "In a New York Minute." 
Like any good dish, we've made our unique policy application and management process from scratch. 
Experienced Agents You Can Trust
With an insurance industry trapped in decades-old systems and "pen and paper" applications (hey, we love the vintage feel, too, but the insurance industry needs to get with the times), our goal is to make buying small business insurance quicker, easier and as painless as possible.
Free Quote
Let's start a conversation.
We've Got You Covered.
Don't Get Caught Off Guard
With our system, you can manage your insurance policy 24/7 and access essential documents relating to your coverage, from anywhere. So, you can have your coverage and instantly manage it without having to schedule appointments with agents or contact an insurer directly. 
"I usually don't share Google reviews. I was hesitant to make the switch from my current provider but the team at Boardwalk made it simple, fast and easy. The rates were competitive, coverage better than my current provider and super responsive - I had a quote back the same day! Making my decision pretty easy 🙂 Thanks again!"
- Amanda

"I highly recommend this brokerage! The process to insure my house was easy and smooth. The customer service was superb. They answered all my questions in a professional manner and helped me make an informed decision. I am super grateful!"
- Kate

"It is my first time doing commercial business and Boardwalk was extremely helpful. They explained and guided me through each step from the beginning to the end. Services were very professional. Highly recommend Boardwalk!"
- Steven

Put Your Business in Good Hands.